Spliffin Cartridges | Buy Spliffin Vape Cartridges Online
If you live in California and haven't yet heard of Spliffin, you're in for a treat. Spliffin produces top-notch cannabis oils, pre-filled in quality vape cartridges that are ready to go! Pure Good Vybes cartridges are highly concentrated cannabis oils rated at 70%+ THC.
Taste and Aroma of Spliffin
The cartridges contain thick oil, rich in terpenes you can taste. Terpenes extracted from premium quality flowers are added back into the oil – exaggerating the flower's natural taste and aroma.
Spliffin Quality Cannabis Oil Cartridges
Aside from amazing quality in flavor and potency, these cannabis oils are pre-filled in noticeably well-constructed cartridges that feel great to the touch. Having some added weight, the metal cartridges not only feel sturdy but also look elegant compared to your average vape.
The metal mouthpiece tip fits great against the lips, adding a nice finishing touch to the overall vaping experience. The empty cartridges are hard to throw out!
Spliffin Vape Pen Available Strains
These strains include a number of Spliffin's own strains, such as Spliffin OG, as well as some of the classics. All strains are available in either 0.5ml or 1ml cartridges, which is approximately 70 or 140 puffs.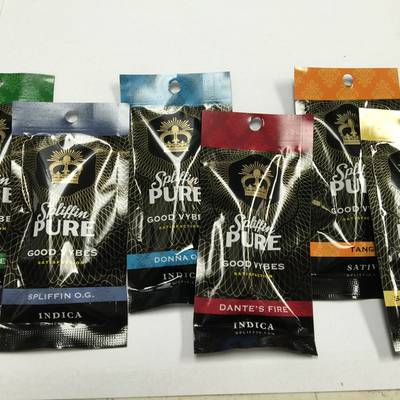 ---
Sativa
 Tangie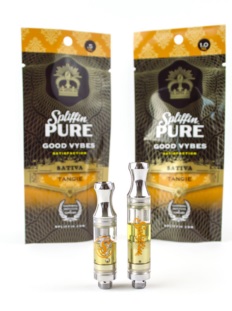 Bred in Amsterdam originally
Sought-after for its citrus smell and taste
Cross between Cali Orange and Skunk
Provides a relaxing, euphoric but potent high
 Jack Herer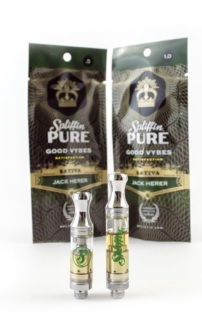 Hails from Amsterdam
Potent Sativa
Retains all of the flavors from the original strain
Perfect for depression, and other things helped by sativas
Daytime strain
 Super Lemon Haze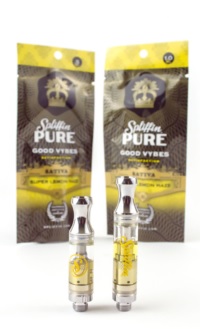 Zesty and citrusy
Sweet flavors
Energetic, lively high
Unwinding, stress buster
Flavorful and overall a great cartridge
Indica
 Dante's Fire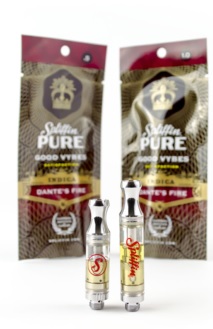 Indica-dominant hybrid
Unrivaled potency
According to breeders in Amsterdam, this strain was a Soviet Experiment (probably not true but gives a good story)
Euphoric and sedative
Great for day and nighttime use
Stress-buster
 Donna OG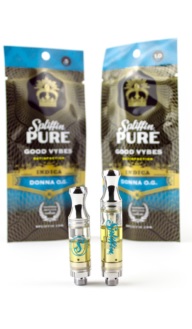 Indica-dominant hybrid
Deep relaxation
Great for a relaxing, intimate evening
Doesn't overwhelm with a strong cerebral high
Great nighttime strain
Euphoric
 Spliffin OG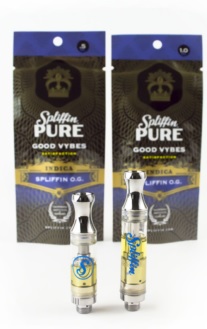 Stress-crushing indica strain
Unparalleled relaxing properties
Sedative body high
Slight cerebral stimulation
Perfect nighttime strain
How to pick your cartridge
They currently does not offer any pure indicas, but the hybrid indicas it does offer are perfect for those who want the indica, body-high experience. However, in general, the rules for choosing a cartridge are as follows:
Sativas are for a cerebral high. Mainly this will affect your mind and will give you bursts of energy, creative and physical. It's normally better to smoke these strains during the day, and they will help with more severe symptoms or conditions such as depression. A perfect example of this would be the Spliffin Vape Jack Herer.
Indicas are more for the body, and often induce what is known as couch lock. Indicas are much better for nighttime use, and will induce sleep, and will help with relaxing & stress, west coast carts flavors. Although the company doesn't offer any straight indicas, the hybrids are all indica-dominant.
Hybrids can lean either way. They will either be Sativa-dominant or Hybrid-dominant. Think of a hybrid like the middle of a see-saw, and depending on far you move to one side or the other, is how strong the strain is on either the sativa or hybrid side. Hybrids mean that you can have both the overwhelmingly heady effects of a sativa, mixed with the relaxing, euphoric body highs of an indica.
Potency and Lab Facts
Cannabis oils test at over 70%+ THC (700 mg of THC per ml). All cartridges are free of any known additives.
Our Experience
We tried the Spliffin OG cartridge and were blown away! Eight to ten puffs of this bad boy and we were flying high.The OG types are proprietary Indica-dominant blend, a hybrid cross between Larry OG and a classic OG strain.
The taste and aroma are quite floral, having peppery undertones and a hint of lavender. We found the cerebral high and body high to work well for easing tension, followed by a comfy, relaxing effect.
Price & Where to Buy
Their vapes are available as one gram and half gram cartridges throughout California. The full gram cartridge typically retails for around $60-50 at local dispensaries around Los Angeles and throughout California dispensaries, but we retail here for just $35